As an avid fan of the Alamo Drafthouse Cinema, I consistently look for interesting shows that no other theater has. After discovering their intent to feature Science Friction: Metropolis with live turntablism score by Denver's DJ Ultra Violet, I was hooked.
They typically begin each event with a half hour custom pre-show that relates to the upcoming film in various ways, getting you adequately pumped for the screening, and often leaving you feeling kind of weird. In a good way. Weird in a good way. For Metropolis, the silent, dystopian 1927 Fritz Lang picture, commercials for the Commodore 64, Kellogg's C3PO cereal, and Robot Commando relived their glory.
  "I am the last computer ever."
"Why must I always look surprised? It's only cereal, after all."
*Stares sadly into distance*
As for music, and Germany, and also more robots, Kraftwerk's 1977 "The Robots" tells us all about life as Musical German Robots.
During this, as a musician, I felt unnecessarily nervous for the performer. "Why are you nervous? All you have to do is sit there and eat popcorn. You are silly" (my brain on anxiety). Nothing unusual happened for me to feel this way, as he prepared everything like any normal show:
Equipment carefully, purposefully setup and tested: check.
Walk throughout the theater for proper environment immersion: yep.
Various "let's *f****** do this" movements, including jumping up and down: this also happened.
I then realized my belly throw-up feelings were excitement, not nerves! And maybe a little hunger. I resolved this with Dry Dock's Apricot Blonde. And probably popcorn. Maybe even a baked pretzel.
The pre-show finishes. Jason Heller, host of Science Friction and writer for Denver's A.V. Club, begins introductions. With prizes!
After prizes, and saying something along the lines of "Let's get ready to rumble!", which is not at all a direct quote, DJ Ultra Violet (Shawn O'Neal) takes the mic.
He speaks in a manner exuding calm, confidence, and humility, describing the film's roots and its relation to his own musical interpretation. Metropolis emerged during an intellectual, artistic, and scientific explosion in Germany after WWI. The film shares ideals from Dadaism, German Expressionism, and Futurism, as does his musical influence from artists and composers rooted in these ideologies. His range of samples selected for the film date from 1959, traveling through to roughly 2003. Genres vary from ambient and hip hop, to industrial, sound effects, and jazz.
Eager to start the performance, he politely delays questions until after the film.
                                       "Why must C3PO always look surprised?
                                         It's not attractive."
DJ Ultra Violet's sounds complemented Metropolis' visuals unlike any movie I've seen. They were mechanical, metallic, playful, rhythmic, pulsing, chaotic, frightening, feverish, dark, abrasive at times, and consistently hypnotic. I honestly wish I was bootlegging the event to show you (Sorry to The Alamo).
Less like this:
    Gotcha!
and more like this: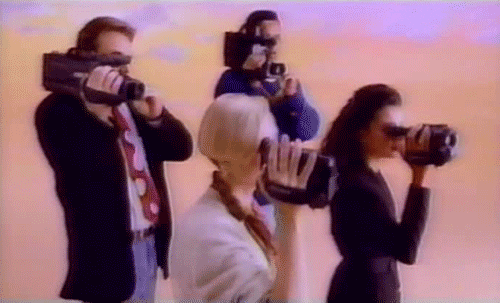 Gotcha!…80s style
(Spooky. Why was this made.)
After the last scene ends, understandably exhausted, he asks if we have any questions.
Someone laughs to break the tension. Our senses have just gone through a lifetime of stimulation.
Another audience member says "That was awesome." A lady follows with "How many times did you watch this movie?"
A good question.
He laughs and says "more times than I would like, I'm probably good for several lifetimes", but phrased in a much more clever and cool way than what I just wrote.
Overall, this incredibly unique event changed the way I think about DJing and its avenues for expression. No longer is it just a medium for dancing, but an opportunity to bring silent films into the present by merging old with new in an unprecedented manner. This event, and others like it, have elevated DJing to a cinematic composition tool that takes the art to another level.
Thank you to the Alamo, Science Friction, DJ Ultra Violet, and well, Fritz Lang, for making this event possible. It was quite the treat, and I look forward to attending, and hopefully performing at, more events like this.
Thank you all for reading,
graymonster
Hey wow it's bonus pre-show material!
Giorgio Moroder's Metropolis (1981, Top Artists!)
Leonard Nimoy and Magnavision! (Laserdisc!)
Robot Commando (1961)
Taking orders from no one except the person that owns him.
Star Wars, French Version
And well, there's this. An Alamo favorite.
And that's about it!